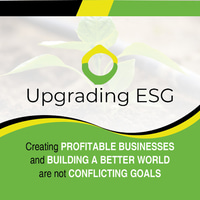 ESG Case Study - Tesla
This hard-written blog looks at Tesla Impact Report and the controversy with theS&P ESG 500 Index
The Tesla / S&P ESG 500 Index Controversy
While I have headlined this blog with a controversial heading and alternative, a more impactful headline should be – upgrading ESG into impact. The ideas shared in this blog and the 2021 Tesla Impact Report are inspiring. This is a must-read for any CEO, CFO, Director, employee, customer, and person who seeks a better future for mankind. As somebody who is an ESG activist, I was pleasantly surprised by Sir Ronald Cohen's posting on LinkedIn. "Tesla's latest impact report leads the way for companies. ESG is transforming into impact as our ability to measure the impacts of companies reveals in monetary terms the good and the harm that companies are creating. Well done Tesla for this excellent call to join the impact revolution!"
https://www.linkedin.com/feed/update/urn:li:activity:6932337966996455424/
On the other hand, Tesla Removed from S&P 500 ESG Index on Lack of Low Carbon Strategy, Controversy Risk https://www.esgtoday.com/tesla-removed-from-sp-500-esg-index-on-lack-of-low-carbon-strategy-controversy-risk Ok, I am now confused. So, I started doing a little research and digging and now I am more confused. In comparison to its Automobile peers, Tesla came out on top by a long. While there were some criticism/negatives in Tesla's behaviour there seems to be a high level of over-scrutiny.
Some questions / Key takeaways here
· Can one really have such a general Index like the S&P 500 ESG index?
· Is this Index flawed? · While Tesla Impact Report has high praises, why is this a storm in the teacup?
· What does this mean for the future of ESG? · Is ESG different from Impact?
· What can learn from this to make the world a better place? Indeed, these questions are addressed in the Summary of the 2021 ESG Tesla Impact Report https://www.tesla.com/ns_videos/2021-tesla-impact-report.pdf
Let's look at what it says: "What ESG measures today: Investment Risk Current environmental, social and governance (ESG) reporting does not measure the scope of positive impact on the world. Instead, it focuses on measuring the dollar value of risk/return. Individual investors – who entrust their money to ESG funds of large investment institutions – are perhaps unaware that their money can be used to buy shares of companies that make climate change worse, not better. An obvious example of this is measuring the impact of the automotive industry. One might think that the more electric vehicles an automaker sells, as a percentage of total volumes, the better its ESG score. However, this is not the case. As long as a company continues to slightly decrease emissions of its manufacturing operations while churning out gas-guzzlers, its ESG ratings are likely to go up. Vehicle use-phase emissions, which represent 80-90% of total automotive emissions (included in Scope 3 of ESG reporting), tend to be misreported due to the use of unrealistic assumptions or not reported at all.
It's easy to see why some oil & gas companies rank higher than Tesla on "Environmental Impact." "The most striking feature of the [ESG rating] system is how rarely a company's record on climate change seems to get in the way of its climb up the ESG ladder—or even to factor at all." What ESG needs to become: Company Impact We need to create a system that measures and scrutinizes actual positive impact on our planet, so unsuspecting individual investors can choose to support companies that can make and prioritize positive change. On the product front, companies should be required to use real-world data wherever remotely feasible and make it clear when estimates are provided instead of real-world figures. An example of this is vehicle "use-phase" emissions, accounting for the vast majority of lifecycle emissions. Automakers' estimates on lifetime vehicle mileage and lifetime fuel consumption vary dramatically and almost never reflect real-world data. Automakers often have access to this data, but they don't disclose it. When it comes to a company's employees, it is essential that they're treated well, with a system in place to prevent discrimination of any kind, that they have a safe workplace and that they are rewarded appropriately, with significant upside if their employer does well. Many ESG ratings evaluate: "Does this ESG issue impact the profitability of the company?" We need a system that evaluates: "Does the growth of this company have a positive impact on the world?"
This evolution of ESG needs to be championed by institutional investors, rating agencies, public companies, and the general public. As the world needs to strive for a substantial positive impact, we won't be referring to ESG in this report. Instead, we'll talk about Impact."
So, here we have it – the great ESG vs Impact debate This above executive summary highlights a number of important points – including Scope 4 which is not yet in the ESG frame of reference. Scope 4 is the ongoing impact of the company's products. However, when looking the 2021 Tesla Impact Report includes all the parameters of ESG, and indeed the report is 144 pages and devotes a high number of pages to Corporate Governance. This is presented in a very transparent way.
The Report is divided into sections
· Intro & exec Summary
· Corporate Governance
· People and Culture
· Environmental Impact
· Product Impact
· Supply Chain
· Supporting Materials ( about 40 pages of sources) In essence despite the name of the report – Impact – this essentially is an ESG report but on steroids. It goes further than the typical ESG report with a focus on Impact. What is interesting is that the Tesla Report falls short on Measurement. Sir Ronald Cohen famous quote is : "You cannot change what you do not measure". Despite this, Sir Ronald gave this report highpraises. ESG / Impact is a work in progres,s and this report is brutally honest about thi . It also brings up the failings of ESG Measurement or Ratings.
Sir Ronaldhimselfl,f together with the Harvard Business School are promoting The Impact Weighted Accounts Initiative (IWAI) . The intention is to account in the Financial Accounts the value / cost of negative impact on the Environment of the Company. I will conclude this section with this: "The Harvard Business School has discovered 3 correlations relating to companies' employment impacts:
- Companies that create more positive impacts are more innovative
- Companies that create more positive impacts lose fewer employees, saving expense in hiring and training
- Companies that achieve greater measurable impacts enjoy higher stock-market valuations
" About us ESG3.0 provides an opportunity for your company to upgrade ESG to Impact. Our Services 1. ESG support for CFOs and Directors 2. Provision on Non-Executive ESG Director service 3. ESG3.0 - Digital ESG Tool Kit 4. Impact Strategies for sustainable finance/Investment ESG3.0 is a breakthrough approach to ESG that incorporates a digital data-driven approach of data collection, management and reporting and Energy Reduction. The approach is both a Digital and Consultancy offering for companies providing a holistic next-generation, strategy, data-driven, tech-based ESG solution, with lower costs and more practical than the larger consulting firms. It is provided together with leading ESG service providers who have decades of subject matter experience – resulting in ESG Accounting, ESG Measurement, ESG reporting and improved accuracy and transparency of your company's ESG rating.
We invite you to learn how we can help you in your sustainability and impact journey. Please feel free to reach out to me by email: jeffrey@persofi.com or browse my blogs on https://www.persofi.com/ where we cover topics with a focus on: ESG Accounting | Carbon Accounting | ESG Measurement | ESG Rating | Net Zero | CO2 Reduction | ESG Reporting I Sustainable Finance |Upgrade ESG to Impact __________________________________________________________________________________
Interesting extracts from the 2021 Tesla Impact Report Included in this is Human Rights (under Governance) Human rights are core to our mission of a sustainable future The ethical treatment of all people and regard for human rights is core to our mission of a sustainable future. We believe all businesses within our supply chain have a responsibility to share our respect for human rights. Our human rights policy is the formalization of our commitment to uphold and respect these rights and the values they represent Employee satisfaction is improving " When going through a challenging period or when the viability of a business is not yet clear, it's likely to have an impact on employee satisfaction. Our early years of Model 3 production and global expansion were some of the most difficult in our history and our employee satisfaction ratings (Glassdoor) reflected that. There's still a lot of work to be done, predominantly when it comes to work-life balance." I.e., The Company admits it not perfect but seeks improvement. Measuring Scope 1,2,3 GCH emissions Tesla are brutally honest when dealing the challenges of Scope 3 "Scope 3 GHG emissions calculations are highly academic, even those widely used and accepted like the GHG Protocol. Most companies lack primary data as it relates to their supply chain, product use and so on. Therefore, most Scope 3 GHG emissions reporting is done using lofty assumptions as well as estimates from databases – this can lead to figures that are magnitudes off from the actual impact. Tesla has begun to measure the two largest categories within our Scope 3 emissions: those from use of product and our supply chain. Use of product emissions Tesla has access to primary data from our over two million vehicles on the road and our fleet of solar and storage products — we can calculate our emissions at a much higher level of accuracy than most manufactures and can therefore develop emissions reduction solutions to match. This also means that we can calculate our use of product emissions year on year — we do not have to estimate emissions over the lifetime of the vehicle because we have primary data. Supply chain emissions Prioritizing our supply chain is crucial and we have a lot of work to do to incentivize suppliers to provide energy and emissions data for us to report on. We have already started to identify which materials and processes in our supply chain are key emitters so we can prioritize engagement and projects to address these emissions — see the Supply Chain section for more detail." Product Impact What Do We See as Impact? Consumers are unlikely to buy products only because they have a low lifetime carbon footprint. In order to convince consumers to buy our products, they need to be better in every way – performance, cost of ownership, safety, fun and more. We want to make products that people love. Supply Chain What do we see as impact? Protecting human rights and the environment is core to our procurement strategy. Tesla creates our products from many different materials and components, some of which we purchase from external suppliers. Many of our direct (tier 1) suppliers do not purchase all their raw materials directly and instead get them from their suppliers and sub-suppliers around the world. While we believe that critical role battery recycling will play in supplying a portion of these materials to enable a closed loop supply chain, global battery cell production will continue to rely heavily on primary, mined materials to meet the growing demand for our products. There is also on emphasis of a matter on recycling. References & Further reading & initial research Let's Look at Tesla vs its Peer in the Auto Industry Influence Map has run the rule over the climate commitments of the world's largest car companies. Key findings: The automotive sector remains a major opponent of climate policy globally. Automakers remain opponents of stringent climate regulation, with 8 of the 12 analyzed automakers receiving a final letter grade of D or D+. Automakers' zero-emission vehicle production is not on track to meet the IEA's 1.5°C scenario. Based on current trajectories, the entire global automotive sector will need to increase annual zero-emission vehicle (ZEV) production by 80% from 2029 to 2030 to reach the IEA's 1.5°C-aligned 2030 target on ZEVs, with only Mercedes-Benz and Tesla appearing to be aligned with the IEA's 1.5C trend for zero-emission vehicle production by 2029 (which requires 57.5% of all vehicle sales to be zero-emission by 2030). Vehicles with internal combustion engines still dominate future production. Despite a shift towards zero-emission vehicles, 68% of light-duty vehicles in production are forecast to be powered by internal combustion engines, whereas only 32% of global vehicles produced will be zero-emission (battery-electric or hydrogen-powered) in 2029. Japanese automakers are least prepared for a zero-emissions transition. The three lowest performing automakers in the model are from Japan, with all three automakers forecast to produce high numbers of internal combustion engine (ICE) powered hybrids and plug-in hybrids over battery electric vehicles, increasing their emissions by 2029 compared to key competitors.
https://automotive.influencemap.org/index.html https://www.linkedin.com/feed/update/urn:li:activity:6932943641522954240/ Clearly, from this Tesla is way ahead of the Pack with its Peers Now Lets at the S&P 500 ESG index The S&P 500 ESG Index is a broad-based, market-cap-weighted index that is designed to measure the performance of securities meeting sustainability criteria, while maintaining similar overall industry group weights as the S&P 500.
https://www.spglobal.com/spdji/en/indices/esg/sp-500-esg-index/#overview
The indices use S&P DJI ESG Scores to select constituents. S&P Global ESG Research calculates these scores and derives them from their 'Corporate Sustainability Assessment' (CSA). A company's CSA score is derived using either company-provided data, publicly available information, or a combination thereof. For the purposes of CSA assessment, companies are assigned to one of the industries defined by S&P Global ESG Research and their assessment is conducted using that industry's CSA questionnaire, which is largely specific to each industry. S&P Global ESG Research uses GICS as its starting point for determining industry classification. At the industry group and sector levels, the S&P Global ESG research Industries match the standard GICS classifications, but some non-standard aggregations are done at the industry level.
https://www.spglobal.com/spdji/en/documents/methodologies/methodology-sp-esg-index-series.pdf For information on S&P Global CSA Industries . There are more than 200 industries listed!!
https://www.spglobal.com/spdji/en/documents/index-policies/sp-global-csa-industry-gics-sub-industry-mapping.pdf I addition there is range of other S&P ESG Indexes The S&P Composite 1500 ESG Index combines the exclusions criteria for the S&P 500 ESG, S&P Mid Cap 400 ESG, and S&P SmallCap 600 ESG indices, applied as outlined above at the respective component index level. Why was Tesla kicked out of the S&P 500′s ESG index?
https://www.cnbc.com/2022/05/18/why-tesla-was-kicked-out-of-the-sp-500s-esg-index.html It said that Tesla's "lack of a low-carbon strategy" and "codes of business conduct," along with racism and poor working conditions reported at Tesla's factory in Fremont, California, affected the score. Tesla's handling of an investigation by the National Highway Transportation Safety Administration also weighed on its score. While Tesla's stated mission is to accelerate the world's transition to sustainable energy, in February this year it settled with the Environmental Protection Agency after years of Clean Air Act violations and neglecting to track its own emissions. Tesla ranked 22nd on last year's Toxic 100 Air Polluters Index, compiled annually by U-Mass Amherst Political Economy Research Institute — worse than Exxon Mobil, which came in 26th. (The index uses data from 2019, the most recently available.) https://peri.umass.edu/toxic-100-air-polluters-index-current In Tesla's first-quarter filing the company also disclosed it is being investigated for its handling of waste in the state of California and that it had to pay a fine in Germany for failures to meet "take back" obligations in the country for spent batteries. Clean Air Vs CO2 Polluters Greenhouse 100 Polluters Index (2021 Report, Based on 2019 Data). An interesting read- Look at who is number 4 https://peri.umass.edu/greenhouse-100-polluters-index-current