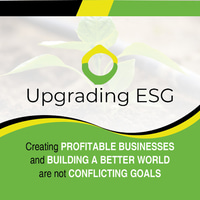 ESG Ligitation Risks
This blog takes notes from The Norton Rose Fulbright 2023 Annual Litigation Trends Survey which makes for interesting reading. ESG concerns are featured highly, and every company, irrespective of size should pay attention. From this base, we have a look at ESG class action suites, ESG proxy Implications and what each company can do about it?
ESG litigation Risks - This blog takes notes from The Norton Rose Fulbright 2023 Annual Litigation Trends Survey, which makes for interesting reading. ESG concerns are featured highly, and every company, irrespective of size, should pay attention. From this base, we have a look at ESG class action suites, ESG proxy Implications and what each company can do about it.
ESG is listed at 37%. it does not end there. All the other points have ESG Implications. It all starts with G – Governance – Assessing Risk, assessing the double materiality risks– on Environment and Social and adopting ESG principles and good ethics to your business.
This affects many areas:
Employment Labor – diversity and inclusion

Cybersecurity, data protection and data privacy

Consumer Protectionism · Product Liability

Personal Injury
Risks can be minimised by ESG Good governance principles.
Key Takeaways: The Norton Rose Fulbright 2023 Annual Litigation Trends Survey
https://www.nortonrosefulbright.com/en/knowledge/publications/52bd21a0/2023-annual-litigation-trends-survey
Employment and labor disputes loom large. This was the most common area for litigation across all surveyed industries in 2022—and it also ranked as the most common area of concern for organizations in the year ahead. The spotlight on workplace issues comes amid increased enforcement actions by federal employment and labor regulators, rising unionization activity and a heightened focus on social justice and diversity, equity and inclusion (DEI).
Cybersecurity, data protection and data privacy are top of mind amid mounting cyberattacks and varied regulatory requirements. One-third of respondents reported experiencing litigation in this area in 2022 — and it was the second-highest ranked area of future concern for class actions, as well the number two area in which respondents expect dispute exposure to increase over the next 12 months.
Environmental, social and governance (ESG) concerns are growing. While only 2% of respondents reported ESG-related litigation in 2022, more than one-quarter of respondents (28%) said their exposure in this area had deepened and 24% expect increased exposure in the coming year. Moreover, of those concerned with class actions in the coming year, more than one in three said ESG-related class actions stand among their greatest concerns. Class action activity and risk parallel the broader litigation landscape in key areas.
Compliance with evolving regulations and heightened regulatory scrutiny is driving concerns across dispute areas. Half of respondents were involved in at least one type of regulatory proceeding last year, with the median number up to one from zero in 2021, suggesting uncertainty over recent rules from the Securities and Exchange Commission (SEC) and other bodies is adding to litigation risk. More than one-third expect such proceedings to increase in 2023. Healthcare, including life sciences, and retail were the leading industries on this front, with 46% and 45% of respondents in those respective sectors predicting an increase in the coming year.
So, let's have a closer look at ESG Class-Action Risks
As reported in Bloomberg, "Class-Action Wave Is Coming for ESG Claims"
In-house counsel worldwide is bracing for a greenwashing lawsuit tsunami amid tougher disclosure requirements. "Across industries, our clients are feeling pressure from customers, shareholders and regulators, among others, to increase their disclosures of their ESG goals and performance," said Rachel Roosth, disputes partner at Norton Rose. "If these disclosures are perceived as false, misleading or insufficient, litigation may ensue."
https://www.bloomberg.com/news/articles/2023-01-25/class-action-wave-is-coming-for-esg-claims-green-insight
ESG-related class actions examples
· Conduct Resulting in Hazardous Materials, Air Impacts, and/or Water Pollution
· Recall of Products Due to Not Meeting
· Regulatory Standards (i.e., Vehicle Recalls)
· Environmental Justice Actions
· Climate Change-Related Actions · Waste, recycling and single-use plastics,
· Supply-chain management and fair labour
· Greenwashing – Product disclosures, Animal welfare, Diversity claims
Water - On November 10, 2021, Judge Judith E. Levy of the E.D. Michigan granted final approval of a landmark $626.25 million settlement resulting from the class action and individual lawsuits against multiple governmental defendants for their roles in redirecting contaminated water from the Flint River into the City's drinking water in an effort to save money and their subsequent efforts to try to cover up the crisis.
Cars - Volkswagen reached a $1 billion settlement with 3.0L diesel drivers affected by the emissions issues.
ESG as the Driving Factor in Multi-Country Class Action Cases
https://corpgov.law.harvard.edu/2021/10/07/esg-as-the-driving-factor-in-multi-country-class-action-cases
Key Takeaways
· Climate change and other ESG factors are driving a heightened focus on stewardship practices among responsible investors.
· Investors, both passive and active, should be mindful of litigation risks and recovery opportunities in their portfolio. · Originally driven by climate issues, ESG-related litigation is expanding into other ESG areas and across a range of asset classes.
· ESG event-driven security class actions are increasing in number, and capturing a broad range of global brands on a number of different topics.
· Global corporations tend to handle class actions differently in different jurisdictions, with many being settled in the US but drawn out in other markets. · This practice has implications for global investors interested in expanding their stewardship and fiduciary practices to include active management of securities class action risk.
ESG proxy voting
This is an area of increasing scrutiny.
What is a Proxy Statement? Public companies in the U.S. are required to file a proxy statement with the SEC and distribute it to all shareholders prior to the company's annual meeting (or certain special shareholder meetings). The statement provides relevant information about matters that will be addressed and voted on at such meetings, which investors need to make informed decisions when they vote on proposals and board elections. For ESG issues, proxy voting and institutional investors have become increasingly important, with activist investors attempting to change company policies, elect their preferred directors to the board or remove directors they oppose.
What to do and not to do when including ESG in Proxy Statement?
Studying other companies can be instructive, but if the wide variety of practices makes it difficult to identify clear principles, another good place to start is with a simple list of do's and don'ts, as suggested by international law firm Perkins Coie. On the positive side, a company should do the following: · Explicitly define ESG priorities
· Make sure ESG metrics are material and appropriate for a proxy statement
· Compare the draft proxy statement with peer-group companies that are considered ESG leaders
· Identify reporting standards or frameworks that are being used for the statement But even if these four things are done well, companies also need to make sure that they avoid basic missteps or unforced errors. Reiterating the complete corporate responsibility report or ESG report would be a mistake because these documents often contain information that is not material for investors. Including metrics that have not been thoroughly validated would be an error, as any inaccurate information could raise questions about credibility. Finally, another misstep would be to make grand promises but fail to follow through and deliver. After all, ESG investors generally want information about measurable and actionable programs.
https://www.csrwire.com/press_releases/758241-impact-esg-proxy-season-and-proxy-voting
So, how can companies minimise these risks?
The Upgrading ESG Value Proposition
With Increasing ESG scrutiny, legislation, regulations, litigation and "taxes", every company, irrespective of size, needs to consider its Sustainability / ESG risks and opportunities. And assess the risks that their activities pose to the environment and society.
The critical challenge is supply chains where over 80% of emissions exist, and worker conditions are coming into play. To remain a preferred supplier, every supplier should get a verified, audited ESG Rating and Report.
Credit scores will be in the future have an ESG element, which could affect the company's ability to borrow and interest rate.
Upgrading ESG, together with its network of leading experts and software providers, is available to assist companies at a fraction of the cost of the Big Accountancy and Consulting firms or trying to do this in-house.
Outputs
• Materiality assessment – Strategy, risk & opportunities
• Supply Chain assessments and verification
• Carbon Accounting
• Audited ESG Rating for your company
• ESG Report
• Bringing concrete ideas to upgrade ESG into Impact
This is an opportunity to win new customers and business and bring efficiencies and cost savings. You are invited to contact me at jeffrey@upgrading.com and learn more about Sustainability and ESG by browsing upgradingesg.com. .