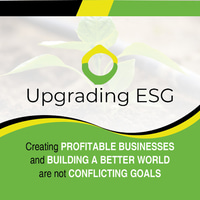 There are now increasing calls for Scope 4 measurement. Scope 4, in simple terms, looks at the effect of a company's product. A good example is a car manufacturer, as there is an end product of a car.
Reporting on this is governed by European legislation under the label of The Sustainable Finance Disclosure Regulation (SFDR).
The SDFR seeks to improve transparency in the market for sustainable investment products to prevent greenwashing and increase transparency around sustainability claims made by financial market participants.
REGULATIONS
Increasing Regulations ,Product coding - SFDR, EU Taxonom

y
PRODUCT LABELLING
In the future every product will have an ESG Score & QR link to data
SCOPE 4
The effect that or cost that yoour produyct has on te environment amd people .
SOCIAL AND ENVIRONMENTAL IMPACT
Impacts both consumers and suppliers
TRACK AND TRACE
Technology exists to track and trace every product life cycle highlighting ESG in the supply chain.
DISCLOSURE
of the effects of your products both on Websites and Financials & ESG/ Sustainability reports