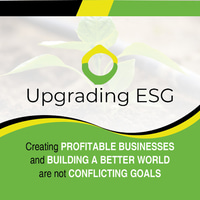 Reporting of ESG is a major source of confusion. There is increasing legislation, and there needs to be a clear standard.
REPORTING FRAMEWORKS
The different reporting requirements need to be understood
MANDATORY REPORTING
Increasing wordwide regulation is making ESG Reporting a standard feature.
VERIFICATION & AUDIT
This is must have especilaly in the light of green washing ambiguity
THE INTEGRATED REPORT
Incorporating ESG and cost and liabilities into the Financial Statements
REAL-TIME REPORTS
Extracting data in real-time to drive efficiencies, change and savings
ESG vs SUSTAINABILITY REPORT
What's the difference?
TCFD
Task Force on Climate-related Financial Disclosures
Mission - improve and increase reporting of climate-related financial information.
GRI
Global Reporting Initiative
GRI is the global leader for sustainability reporting and the catalyst for transparency.
SASB
industry-based approach to standards development. Now part of IFRS
SEC
The SEC regulations makes Sustainability Reports mandatory.
IFRS
Aims to deliver a comprehensive global baseline of sustainability-related disclosure standards
TNFD
Developing and delivering a risk management and disclosure framework for organisations to report and act on evolving nature-related risks
There is increasing mandatory reporting across the world. This resource highlights the major requirements and is a good starting place to understand the requirements in specific countries. The impact of the new legislation will be not only on the specific country's largest companies and financial institutions but also on the thousands of businesses in their supply chains around the world – stressing once again the importance of getting your ESG reporting going despite whether you are directly affected or not.