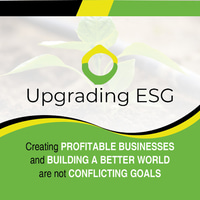 True prosperity will be found in the embrace of the digital economy. These farmers prove it.
This article will have a deeper look into this sensational headline. It will highlight the necessary elements that we call Biodiversity - Highlighting Digitalization and Sustainable Living, which are megatrends with a pervasive impact across many sectors and on the business models of emerging and established businesses - Twinning Ecology and prosperity.
True prosperity will be found in the embrace of the digital economy. These farmers prove it. This is the headline on the official page of the WEF World Economic Forum. This article will have a deeper look into this sensational headline. It will highlight the necessary elements that we call Biodiversity - Highlighting Digitalization and Sustainable Living, which are megatrends with a pervasive impact across many sectors and on the business models of emerging and established businesses - Twinning Ecology and prosperity.
While the underlying efforts display good intentions, I will highlight that this initiative still greenwashes the challenge and the need to address the required solutions to the challenge of "moving small farm holders from poverty to prosperity".
I will highlight the following:
Why Good intentions are not enough

Why this approach is flawed

Looking at the growing call for Biodiversity – the need for Investment into Smart Agriculture

The needed parameters of the Digital and Physical Farming Platform

Demonstrating the needed change in approach

The proof

Call of action - Substantial Profit for the Farmers and Investors alike
With all the talk of Climate Change, one key area gaining attention is the Business case – Investment for Profit and Impact into Agriculture. This represents the next frontier – The Next VC Investment, a new asset class of Investment in Real Estate investing. It has a solid base of Innovation, and with the correct Business Models and Funding, it opens a blue ocean for investors and plays an essential part in meeting key ESG / UNDGS challenges.
Why good intentions are not enough

True prosperity will be found in the embrace of the digital economy. These farmers prove it. This headline is from the official page of WEF - The World Economic Forum(WEF) is the International Organization for Public-Private Cooperation. The Forum engages the foremost political, business, cultural and other leaders of society to shape global, regional and industry agendas.
https://www.weforum.org/about/world-economic-forum/
Well, we now have proof that the digital economy will provide prosperity to the 2 billion people that depend on the 500 million small farmer holders in developing countries, including Africa and India. The article refers to an initiative by one of their club members – Mastercard, called Farm Pass.
The article takes you to a link to their blog where they say that cutting out "Crop brokers at local markets who claim a hefty share of profits, leaves farmers little room to negotiate prices. Even worse, they have no cash on hand and no access to credit to buy quality pesticides and fertilisers to maximise their harvest. Every day is a battle to run their farms to support their families. Many of their children are leaving their communities to pursue other careers, since farming no longer offers a sustainable income." Mastercard's Farm Pass platform piloted in Kenya in 2015 and since expanded to Uganda, Tanzania and now India, brings together people from both the supply and demand sides in an agricultural marketplace to support farming communities. Farm Pass connects farmers directly with buyers, empowering them to negotiate the best price for their produce. Farmers can also access quality farming products like fertilizers and review farming information such as weather forecasts and pest control advice through the platform, as well as get paid and pay digitally. A digital record of their transactions means they have the validated financial history they need to apply for loans to finance and grow their businesses. And buyers can source their products more efficiently."
https://www.mastercard.com/news/perspectives/2023/mastercard-farm-pass-digital-farming
In principle, the above is correct, but the program is missing a few key elements, which I will address later.
I decided to Google: Join Mastercard Farm pass program - I drew a blank – there is no way to sign up.
The result is that this is still very much an idea and another intention to do something without looking into all the necessary Parameters. While this is good start, Mastercard says it states that $ $50 million in funding could come from the African Bank Ecobank. Surely, a company the size of Mastercard could provide $50 million in "matching finance. $50 million, which is a drop in the ocean. To put this into perspective - COP15's message to the world: Invest $250 billion in nature or risk the consequences.
https://sme.asia/mastercards-farm-pass-to-digitally-connect-15-million-people-in-remote-communities/ https://furtherafrica.com/2022/06/30/mastercard-and-ecobank-to-connect-small-scale-farmers-to-farm-pass/
2. Why is this approach flawed?
Digital Solutions – Fintech will play a part, but cutting out the middleman will not bring success. Traditionally, any business has Producers (Farmers) , Distribution and Customers. We can look at the success of Amazon, which is democratising SMEs. Amazon itself became the middleman, albeit a more effective one. Farming has more levels of challenges and complexity.
We can look further into how the Israeli agro model overcomes these challenges and use this model as a base example of success. The number one challenge is that small farmers do not have the ability to substantially increase their income. They can not afford to pay for these services; many still lack access to smartphones or access to the Market. Therefore, collaboration, startup capital - Micro Financing, Farming expertise to increase yields, ability to export their products are some of the needed solutions, Furthermore, the Initiative highlights the need to have "no cash on hand and no access to credit to buy quality pesticides and fertilisers to maximise their harvest" – While the no cash part is correct, the initiative promotes and praises unhealthy chemicals. Again, supporting the big Agro Chemical Companies. The negative effect on the environment and our health is well known, and documented and the call by the UN, the EU to reduce the use of harmful pesticides substantially is governed by legislation. This is what is labelled biodiversity and making our nature systems sustainable.
3. Looking at the growing call for Biodiversity – the need for Investment into Smart agriculture
I referred to this previous blog which tracks the calls of COP 27 and 15 –le. Some key themes were Funding for developing economies, climate-resilient smart agriculture, biodiversity and pesticide reduction.
https://upgradingesg.com/the-drive-and-need-for-finance-into-smart-agriculture
Here I want to highlight some critical points.
Agriculture is the key to meeting these objectives and more

Every country is facing agricultural and food security issues – from quantity, and quality to overuse of chemicals and harmful pesticides

This has further adverse health effects

Agriculture is the key to fostering relationships between countries, governments and people.

It relies on collaboration and is a key to peace. Similarly, the challenge of water.

The Key to is Agro Business Models – See https://www.ibmaconference.org

The most significant opportunity for change is small farmer holders in developing countries

The impact of CO2 Saving is understated–reducing waste in the agriculture process is a huge opportunity. Shortening shipping and increasing shelf life are just a few examples of achievable goals.

The combination of Profitable Agro Business Models for small farm holders is a revolution that enables prosperity and the reversal of the tide of abandoning farming and encouraging more trees to be planted and more people to rethink (Gen z) to consider Farming a Viable Business

The key to this is the twin use of Digitization (Fintech) and the Israeli Agro Business Model.

Micro Finance is the key to unlocking this.

The missing ingredient is start-up capital for each project in identified countries.

This Investment criterion must have a healthy, sustainable profit for the lenders, Investors, farmers and the Companies providing Services – Agtech, Farming as a Service, and Fintech.

The investment must bring about large-scale change and impact – profit + ESG

ESG is very important with a focus on G – Transparency, oversight, no bribery, fair treatment of farmers and workers, and profitable business for all players in the supply chain.

It should not be based on donations, handouts and grants. This represents a needed change in the mindset of the UN, NGOs and Governments.

It will require collaboration between government, NGOs, investors, and the private sector.

Investment and finance can be in many forms – Project Finance, Facility of Micro Finance In packages of $5m-10m, or the set-up of a $100 million Agro Funds – Aka Green Bond.

It should lead to an increase in $ income per Hectare and encourage new farm projects
4. The needed parameters of the ideal Farming Platform
Technology and Services

Profitable Business Model

Ecosystem

Digital / Fintech

Biodiversity - Environment
Farming Services and Technology
Services - Crop protection, water efficiency and farming expertse,

Agtech – digital solutions to measure optional harvesting, water usage, weather etc.. ·

Ability to increase $ Income per Hectare increasing on a year-on-year basis

Reducing waste – high % of fruit crops are destroyed because of infestation.

Sales and distribution of fresh produce to premium markets and customers.
Profitable Business Model
Including choice of produce – High value vs low-value crops.

Focus on increasing quantity and quality,

collaboration to achieve higher prices – Exports.

Go global, or die local.
Ecosystem
Includes a range of services that government agencies fulfill the agricultural sector's needs as a whole, providing everything from tailor-made water infrastructure to advanced R&D and market access.

Collaboration amongst frmers , Farming communities.

Government Agencies shouldthe support introduction of Technology and ease the red tape of regulations.

Needs to be replicated in specific farming communities and requires cooperation between Government, NGOs,Investors/lenders, Private Companies and the farming communities. Governments also should facilitate financing together with public markets, NGOs, Banks and private companies.
Digital – Fintech ·
Not only payments, but

Farmer App - Sign up to access Services - Legal, Info, Data Farming, Finance, Services, Carbon offsets, Payments, Monitoring and more

Marketplace to buy services and sell the produce

Ability to track outputs and inputs to

enable the provision of microfinance

Facilitating Start-up and ongoing capital – Micro Finance for required farming services.

Creating a Financial infrastructure and ecosystem for all the Investors / Financiers to participate with profi, and reduced risks- This can include classes of players from Government Agencies, NGOs, Venture Capital, Banks, specialised Lender, microfinance, companies to Invest/give back to the communities as part of ESG / CSR to facilitate Agro Green Bonds.
Biodiversity / Environment
ESG tracking – in the full Supply Chain including the tracking of harmful chemicals, fertilisers and pesticides

Bio Security – health Free of Pests, reduction in the useof harmful chemicals and pesticides etc , ·

Carbon extractions – enabling additional Income from the use of offsets to these farmers

Reduction of waste - CO2 savings

Minimising the distance from production to customers extending shelf life - CO2 savings
5. Demonstrating the required Investment / Financial structure
COP 27 and 15 called for– Investment and Finance into Smart Agricultureespecially in developing countries. To date, this has by led by NGOs. NGOs are slowly coming to an awareness that as a change in mindset needs to happen with leading programs from the EU , IFC and USAID, who now need to provide Venture Capital to make a substantial change.
For Example, "USAID is advancing global food security by helping families and individuals meet their need for a reliable source of quality food and sufficient resources to produce or purchase it. By addressing the root causes of hunger, USAID is increasing economic opportunity and growth among vulnerable communities. This, in turn, supports global stability and prosperity." https://www.usaid.gov/agriculture-and-food-security
One interesting example is https://oneacrefund.org with boots on the ground is: Farmers are the key to achieving food security and prosperity. In Sub-Saharan Africa, most people living on $1 a day are farmers. One Acre Fund supplies farmers with the farm supplies and training they need to grow more food and earn more money. One Acre Fund works with millions of smallholder farmers to equip them with the necessary supplies and training to thrive. I am bringing this example as it highlights the challenge.
Unfortunately, One Acre and initiatives like Bill Gates Agra Project fail to create a long-term sustainable income for the farmers. What is needed is for these NGOs is a change in mindset.
Many leading NGOs in the US, Europe and Israel recognise the need and opportunity. Ultimately, profit and creating sustainable income for these farmers require a partnership with private companies (and just large conglomerates). These NGOs have the potential to be a catalyst for change. In 175 non-developed countries around the world, over 40% of the population barely survives on less than $2 per day and depends on agriculture for its livelihood. And the number of farmers living in poverty is still on the rise.
That is why to advance the agricultural sector in such economies; we must address the root problem they face; a need for dedicated business models that can leverage the agro-technologies, funds and other resources available in the agro sector today. One initiative is the International Conference on Business Models in Agriculture (IBMA) 2023, a first of its kind and an incredible milestone in the history of agriculture and non-developed economies and their farmers.
https://www.ibmaconference.org.
Going into further detail – I want to highlight two key areas:
· The investment and business case
· Impact – Not only Environment but Societal
The investment and business case
Let us start by looking at the Agro income gap. The business potential is dealing with the massive income gap of small-hold farmers in developing counties whose yield and income is 1/50th of Western Countries. Hence, changing the situation and substantially increasing farmers' income while creating a handsome profit for investors and value chain partners is THE solution to introduce. The global market of high-value fresh fruits like mangos, avocados, citrus, and grapes is over €600 billion a year (exp. 2022), with a 5.7% annual growth rate. The Mangos market alone has a value of $60 billion. High-added value crops, highly valued in premium markets, hold the best business opportunity once the quality and market access issues are solved. Mangos represent an untapped opportunity. The GAP between the low prices of fruits in the global south to their high price in the premium markets in the global north presenting a huge blue ocean business opportunity for companies and investors related to the agro sector and agro trading. Mangos' multi-billion untapped market will be used as its model crop.
I will be referencing these points to https://www.dreamvalleyglobal.com/ ,an Israeli company founded by Dr Israel Nimrody, who founded Israel Pest Control R&D Company Biofeed, and its award-winning Freedome and is the chairman of the IBMA Conference.
With the Dream Valley(DV) Business Model, bridging this gap is possible, field-proven, and realistic. Dream Valley brings the best of Israel's field-proven modern agriculture practices and technologies to developing countries – Africa, Asia, and Latin America. Dream Valley starts with Mangos, where it doubles the yield even in the first year and continuously increases $/€ income per hectare.
DV addresses the biosecurity issues, overcoming export bans, using zero sprays, and no chemicals or pesticides damaging the fruit or environment. This increase in income allows the implementation of additional AgroTech solutions in the following years. There are 6 million hectares of Mango Fruit Trees with an average yield of 10 tons per hectare. This market business opportunity equates to approximately - €60 billion.
Mango is Dream Valley's first use case. In due time, Dream Valley will expand this to citrus, grapes, and other crops where it can create added value by bringing fruits of higher quality to premium markets. The result: a real opportunity to make a change and bring profit and impact The ability to substantially increase income represents a win-win for farmers, Dream Valley, and investors.
Impact – Not only Environment but Societal.
Dream Valley offers an alternative to current farming practices, Agro Business, and the creation of diversity in the food chain with the ability to change poverty to prosperity. This, directly and indirectly, will solve most of the 17 UND SDGs. Higher Income leads to prosperity, enabling better housing, Water, Electricity (Solar) education and access to health services. It also stops the drive to towns and encourages establishing stronger and more sustainable farming villages and communities.
Dream Valley highlights that it is possible to "Accelerate the Transition to Sustainable and Resilient Agri-Food Systems" - To improve farmers' livelihood by increasing quality production, free of bio and chemical hazards, grown in a safe, eco-friendly environment, to enable consumers to enjoy better and healthier food and life.
Dream Valley is promoting regenerative agriculture, reducing food waste, substantially increasing food productivity (quantity & quality) on current (and development of new Farms), Biodiversity and security. Our emphasis ion MORE FOOD production is far more critical and essential for global hunger and farmers' prosperity than FOOD LOSSES.
Benefits to the consumer Improve buying experience with better-tasting products and increase the potential of more fresh product purchases. Improves overall health by supplying a pesticide-free product. Improves feeling of contribution to reduce Waste (in a survey, some consumers said they throw ≈50% due to bad taste and smell). High-quality mangos will prevent waste and increase satisfaction. Creates a positive effect when Consumers are aware of the precise origin of the produce and their contribution to farmers' livelihood Summary of Environment Impacts Reducing the use of harmful sprays and pesticides Reverse the decline of fruit trees planted around the world caused by pests. Reducing food waste – preventing physical destroying the wasted produce caused by pests. Increasing Food Production on available Farms Encourages the establishment of new commercial fruit farms = Increased Food production and biodiversity Carbon Extraction/sequestration 50% of Mango Crop is discarded because of Fruit Flies – The adoption of the Dream Valley Protocol solves the problem – Reduces food waste and saves scarce resources and CO2. Carbon saving of approx. 4 tons per annum per hectare of CO2 equivalent to one car The adoption of the Dream Valley model can play a vital role in the call for action of the UN global compact organisation's call for nature-based solutions to address climate change.
6. The Proof
Dream Valley's large-scale project in Senegal proves it is possible.
It raised Senegal's annual mango export to the EU from 12M kg to 24M kg in 2021. That is a 100% increase in exports to Europe. In one year.
Let's change the heading of
True prosperity will be found in the embrace of the digital economy. These farmers prove it.
to
True prosperity will be found in embracing a profitable Agro Business Models and Ecosystem embracing the digital economy. These farmers prove it.
7. Call of Action - Substantial Profit for the Farmers and Investors alike
Dream Valley is redesigning the value chain from underdeveloped economies' small-hold farmers to premium markets. This represents a highly profitable business and investment opportunity based on leading Israel AgroTech with a robust business model underpinning UNSDGs- sustainability and social impact. It addresses the worldwide challenge of smallholder farmers in developing countries. 97% of global farmers are smallholders (550m people), but supermarkets can't access their produce.
The value chain from these developing economy smallholders to premium markets is broken or missing. Dream Valley's "secret sauce" is the following
:a) Combined farming know-how and crop protection management experience, which, when combined, substantially improve yield quality and quantity.
b) Fixing the Value Chain by providing access to premium markets. Dream Valley (DV) is a complete 360-degree agro platform with a vital Fintech (digitalisation/finance) element.
The financial model used by DV and complete agro management will provide the security to finance the smallholders. Over 90% of the microfinance to small farm holders is provided through technologies and services. Farmers are paid after harvest based on the quality and quantity of their yield.
The model is one of certainty – increased opportunity and lower risks. Reasons.
DV provides farmers not with funds but matching funds, i.e., goods, services, market connections, and proven export abilities.

DV monitors the entire value chain, including all the service/goods providers.

DV team brings in relevant complementary field-proven expertise.

Dream Valley's novel value and supply chain bridges that gap.

Helping farmers that now sell fresh produce of low quantity and quality at a low price to sell high quantity and quality at a high price to premium markets.

Supplying consumers with fresh produce of better taste, grown under a Regenerative Agriculture protocol, using 95% to 100% fewer chemicals, mitigating global warming, poverty, and hunger.

Alignment of Interests - DV profits from a commission from the sale price. Maximise profit by selling direct to the supermarket and cutting out the unnecessary middleman

To achieve this, DV had to develop a novel business model and have access to proprietary technology and protocols that enable growing fruits without sprays.

The model is based on the Israeli agricultural model that has proven itself in all crops for over 70 years.

The technology is Freedome, developed by Biofeed company with the support of the Israeli Innovation Authority, winner of the Grand Challenges Israel Competition, and working for 22 years in Israel. Dream Valley holds an agreement with exclusive rights to market this.
Dream Valley is a full-cycle package business platform for producing and marketing fresh produce. In return, Dream Valley gets ownership of the crop (reducing risks), sells it in premium markets, and with its finance partners, finances the entire value chain.
Dream Valley provides small hold farmers with the technologies and value chain services to achieve a high income from export-quality produce. Dream Valley is ready to market and upscale its operation and activity. In 2021, Dream Valley ran a national-scale pilot with hundreds of mango growers (smallholders) over 2,500 hectares in Senegal. As a result, Senegal doubled its mango export to the EU from 12 M kilograms to 24 M kilograms, and growers doubled their income in one season. Dream Valley is ready to market and upscale its operation and activity. Dream Valley has a solid pipeline of countries with strong business prospects (Ghana, Rwanda, Togo, Ethiopia, Kenya, Nigeria, Mali, Senegal, India, Colombia. etc.).
We invite you - the Farmer, Farming Community Government Agency, NGO, VC, Bank, Financier, Investor, Entrepreneur, Agro Company to join us.
Ref 1: https://www.weforum.org/agenda/2023/01/embrace-digital-economy-farmers-africa-davos-2023?utm_source=linkedin&utm_medium=social_scheduler&utm_term=Davos+2023&utm_content=21/01/2023+20:00 Call of Action