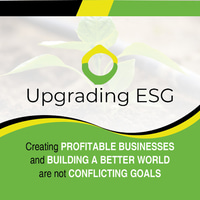 Upgrading ESG: How Business Can Strive in the Age of Sustainability
A brief teaser and intro to my upcoming book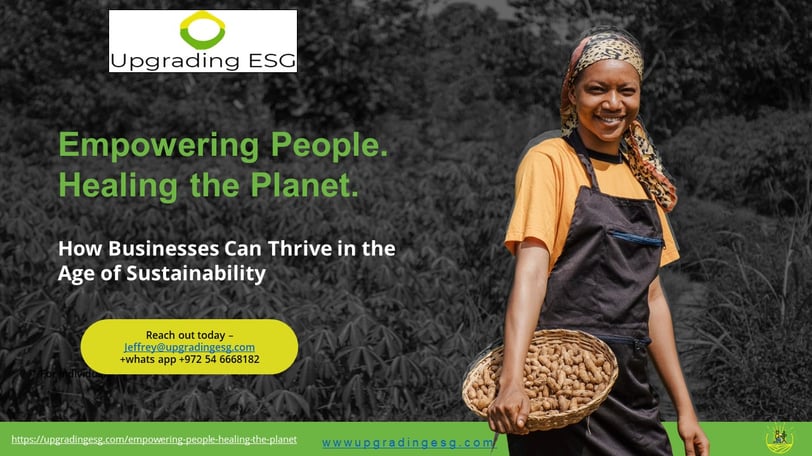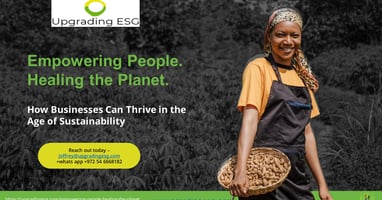 Introduction: I am excited to share a brief overview of my upcoming book, a project that has marked my first venture into the world of authorship. The process has been both enlightening and rewarding, laying the foundation for a journey of learning, idea-sharing, and collaboration.
As I prepare to share the pre-final draft, encompassing a comprehensive 230 pages, with several individuals for their invaluable reviews and recommendations, I extend an invitation to those who wish to be part of this journey. Together, we aim to catalyse positive change in the realm of sustainability.
What to name the book – currently – I have " How Business Can Strive in the Age of Sustainability, but my friend Chat GPT changed this to "Upgrading ESG: Pioneering Sustainability in the Business World". Happy to have input here.
Publication Plans To bring this vision to fruition, I have identified reliable resources for self-publishing on Amazon Kindle, and I am also considering releasing an audible version. While the cover design is a work in progress, I present it here as a foundational concept.
Meet the Author: Jeffrey Levine - A Visionary Catalyst for ESG Transformation. Allow me to introduce myself as Jeffrey Levine, the visionary founder of Upgrading ESG.com. With a diverse career spanning various CFO corporate roles, I bring a unique blend of experience to the forefront. What distinguishes me as the ideal advocate for upgrading ESG is my profound understanding of the corporate world, often at odds with my core beliefs. My guiding mantra is simple yet profound: "Creating profitable businesses and building a better world are not conflicting goals."
Unveiling "Upgrading ESG: How Business Can Strive in the Age of Sustainability " "Upgrading ESG" is poised to initiate a paradigm shift in our approach to sustainability. The upcoming book, titled "Upgrading ESG: How Business Can Strive in the Age of Sustainability," challenges conventional business norms and unequivocally champions the transformative potential of enhancing ESG practices.
Who Will Benefit from This Book? While primarily intended for business leaders, including CEOs, CFOs, and directors, this book offers invaluable insights to anyone who aspires to contribute to a fairer and more sustainable world. I present a compelling case for the importance of elevating ESG (Environmental, Social, and Governance) practices within its pages. I demonstrate that this is not merely a checklist exercise but a strategic imperative that offers both profitability and meaningful societal impact.
Key Themes Explored The book delves into several key themes, each vital to understanding the significance of ESG upgrades:
The Business Case for ESG Upgrades: I illustrate how enhancing ESG practices can bolster profitability and shareholder value while fostering a fairer and more sustainable world.

Beyond Checkbox Compliance: The book emphasizes that ESG should transcend mere compliance, evolving into a comprehensive strategy to address contemporary challenges and seize opportunities.

Identifying Flaws in Current Approaches: I critically examine common pitfalls and limitations in existing corporate strategies, shedding light on areas where improvements can unlock new business opportunities.

Seizing Business Opportunities: Throughout the book, I explore innovative business ideas and opportunities that emerge when companies prioritise ESG upgrades.

Navigating Global Change: Recognizing that sustainability is a relatively new focus area for businesses, the book addresses the current global imperative for transformative action and offers guidance to companies at various stages of their sustainability journey.
Join Us on the Journey "Upgrading ESG: Pioneering Sustainability in the Business World" challenges the status quo and inspires business leaders and individuals alike to view ESG upgrades as a pathway to a brighter, more sustainable future. My unique perspective, shaped by career experiences and values, makes this book a compelling and thought-provoking read for anyone interested in the intersection of business and sustainability.
Join us on this transformative journey towards a better world.
As part of the discovery process, it became very clear we need a change of emphasis in corporate social responsibility (CSR). These thoughts are expressed below:
Empowering People. Healing the Planet "Upgrading ESG" introduces a game-changing concept: Agro Offsets. Major corporations, including tech giants, telecom companies, supermarkets, mining firms, and oil and gas giants, possess the potential to drive transformative change in the regions they engage with. This is where Agro Offsets come into play. It's not merely about offsetting carbon emissions; it's about creating tangible, positive impacts. Agro Offsets hold tremendous potential in areas such as food security, carbon reduction, waste management, environmental preservation, and improved living standards.
Food Loss: A Global Epidemic
The alarming reality of food loss in agriculture demands our immediate attention. Approximately one-third of all globally produced food is lost or wasted each year, impacting food security, economics, and the environment. This loss incurs an annual cost of USD 2.6 trillion, including USD 700 billion in environmental costs and USD 900 billion in social costs.
Introducing FarmUp: Where Transformation Begins Our vision takes shape through FarmUp, a platform designed to catalyse change in developing nations. FarmUp focuses on financial inclusion, economic empowerment for farmers, and environmental sustainability. The platform revolves around four pillars:
Urban Farming Transformation: Empowering urban farmers with advanced agricultural technology, water efficiency, and comprehensive farming services.

Solar Agro Adoption: Merging agriculture with solar energy creates a powerful synergy promoting prosperity and sustainability.

Mango Industry Upgradation: Addressing unique challenges in the mango industry, a cornerstone for economic growth in many African countries.

Eco-Village Creation: Transforming villages into self-sustaining, eco-friendly havens through innovative adobe housing solutions.
FarmUp: A Platform for Change FarmUp represents a groundbreaking digital farming project marketplace that encourages sustainable investment in agroecology, particularly in Africa, home to numerous small-scale farmers. This platform bridges corporate social responsibility with agro offsets, offering tailored project opportunities that drive positive change. It provides financial support, advanced farming technology, services, and FinTech solutions to ensure transparency and accountability.
For More Information To learn more, please feel free to contact me via email: Jeffrey@upgradingESG.com.
You can also explore my blogs on https://www.upgradingESG.com.
Join over 20,000 like-minded individuals in the LinkedIn Upgrading ESG group, where we share ideas and news: https://www.linkedin.com/groups/133378.
Stay updated by subscribing to my Substack channel: https://upgradingesg.substack.com/.
Together, let's embark on this journey of transformation towards a sustainable and equitable future.